There are two reports available to help a clinic manage their wellness plans. 
Wellness Plan Report - allows you to find all wellness plan members and their total price, amount paid, amount still owed, start of plan, expiration of plan, and provider of plan.
To access the wellness plan report the employee must first have the right to access the report.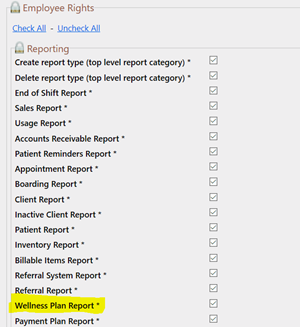 From the "Home" screen the employee will access the "Reports" tab. Click the Edit Pencil to the left of the "Wellness Plan Report" and Select "New Run"
Give the report a Name*, apply filters and "Generate"
Based on the filters selected the report will certain information
2. Payment Plan Report - allows the clinic to see transaction errors, processed transactions, and scheduled transactions.  This report should be ran on a semi regular basis and corrections to the failed transactions should occur by a staff member manually. If it is a card failure (decline, etc.), you will need to get a new card from the customer and update eVetPractice.  If changes are made, make sure to update the payment schedule so that the missed payment's date is in the future.
This report can only be ran by Employees with the right.
To access the Payment Plan Report the employee can access from the "Home" screen and "Reports." Click the edit pencil to the left of the "Payment Plan Report. Select "New Run"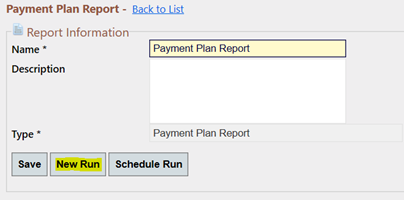 Give the report a Name*, apply filters and "Generate"
Based on the filters selected the report will certain information