When reminders are created in eVetPractice on billable items then there may be other reminders that will need to be "deactivated" and "satisfied" with others when billable items are charged. This is where the reminder associations on reminders come in.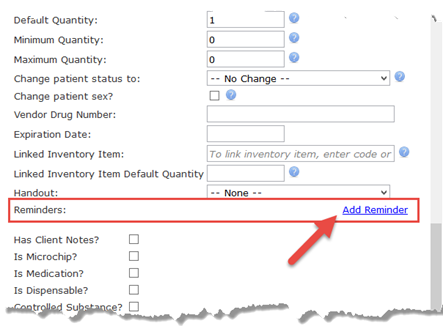 To set up reminder associations on reminders added to billable items you must first "add reminder" to the billable item.
Once the reminder settings have been entered in the "Edit Reminder" screen click on the "Reminder Associations" dropdown. The reminders can be filtered by entering code or keyword. *Note: If the billable item searching for does not appear in the dropdown this means it does NOT have a reminder added.
Select all of the billable items that will be deactivated by the item reminder currently being edited. What this does is when any of the items exist in the medical record and the item is invoiced and checked out then the associated reminder will be deactivated and replaced with the reminder currently being edited.
*Reminder associations only "deactivate" and "satisfy" when the payment is processed for the invoice.