Question: How do I create and use packages in eVetPractice?
Answer:
Packages in eVetPractice are extremely useful because they allow you to group together multiple billable items (inventory items, procedures, and labs) into one overall package where you can update quantity and price.
While packages can be used in a variety of ways; the three most common are:
Grouping items together for ease of use - Every time I use item W I also need X, Y, and Z).
Grouping items together to provide a package deal - you buy W, X, Y, and Z together you'll get a discount.
Creating a canned estimate - If I do surgical procedure W I may need 3-5 of X, 1-2 of Y, and 0-1 of Z.
CREATING A PACKAGE
Navigate to the Gear Icon
Click on Packages
Click Add a New Package

This will bring you to the package creation screen.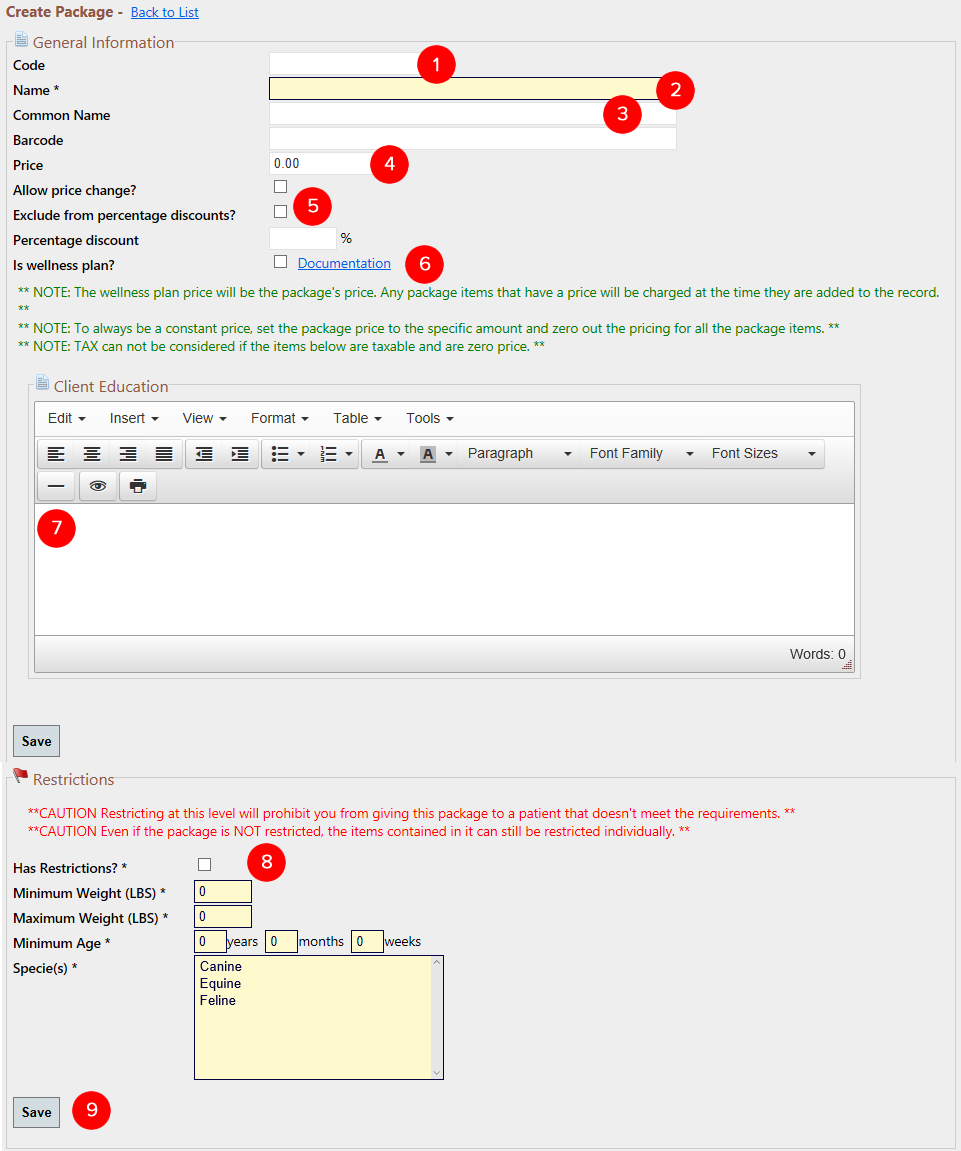 You can enter a code for this package, but it is not required.
Name your package.
If you have an alternate name that you want to show up on invoices instead of the name you entered above, you can put the invoice name here.
This price field will be added to the price of all your items below.

Please Note: This price field is NOT TAXED and should only be used if your package is not taxable.

The next three fields (Allow price change, Exclude from percentage discounts, and percentage discount) are exactly as they appear on inventory items, procedures, and labs. Respectively they are asking should an employee with the right to change prices be allowed to change the price of this package; should this package be excluded from any group/client discounts (everyone must pay full price); and would you like to put an overall discount on this package because it is on sale for everybody.




If this package will be used as a Wellness Plan, when checked, additional options will appear:

Production override - this tells the system what production amount to use when adding this wellness plan to the medical record.
Plan duration in days - this tells the system when the wellness plan expires.
Out of plan discount - this tells the system what discount the client will get for items that are outside the wellness plan specified below.
Auto Renew? - if checked, the plan will renew when it expires.

You will have the option to email your client the Client Education information if you add the package to their pet's medical record. Typically this is only used if you do not have any handouts associated to any of the billable items in the package. Please Note: This section cannot be printed, only emailed. Therefore it is typically recommended that you use handout tied to individual billable items in the package that will be printed or emailed automatically upon checkout.

Here you can put restrictions on the package. You will need to check the "Has Restrictions" box and then say if this package should be for a certain weight, age, or species.

Click Save once completed and you have created the "shell" of your package. You will then be brought to the following screen:
You can go back and edit the General Information of your package at any time (Name, Price, Client Education, etc.)

You can go back and edit the Restrictions at any time (weight, age and species).

Here you can start adding items to your package. "Add Item" will allow you to search by name or code throughout all your inventory items, procedures, and labs.

If you have certain procedures, inventory items, or labs that you want to add you can click on any of these links to only search through that particular billable item.
You can go ahead and add all the items you need for your package. If you use the "Add Item" field (#3 above) they will appear in a drop down box:
Or you can click on Add Procedures/Inventory Items/Labs (#4 above), search by category, update the quantity you want to add, and click the plus sign to add the item:
Once you have everything added your package should look something like this for a surgical package:
Or perhaps like this for a wellness package (keep in mind, we're IT people pretending to be veterinarians with these packages!):
EASE OF USE VS. PACKAGE DEAL VS. ESTIMATES
At this point in the package creation process you have created an ease of use package. What this means is that you've only gone through and said "If I use this item, I'll also need these 3 items as well," because you have simply added your items to the package without adding price changes or quantity changes.
To provide a package deal you can update the prices of individual items in the package by clicking on the edit pencil next to the price on each item, updating the price, and then clicking Save. Please Note: This will only update the price of this item in this package only. It does not affect the price of the item if it is used in other packages or on its own.
To determine the price of your package add together the total price of each item with the price in the General Information field.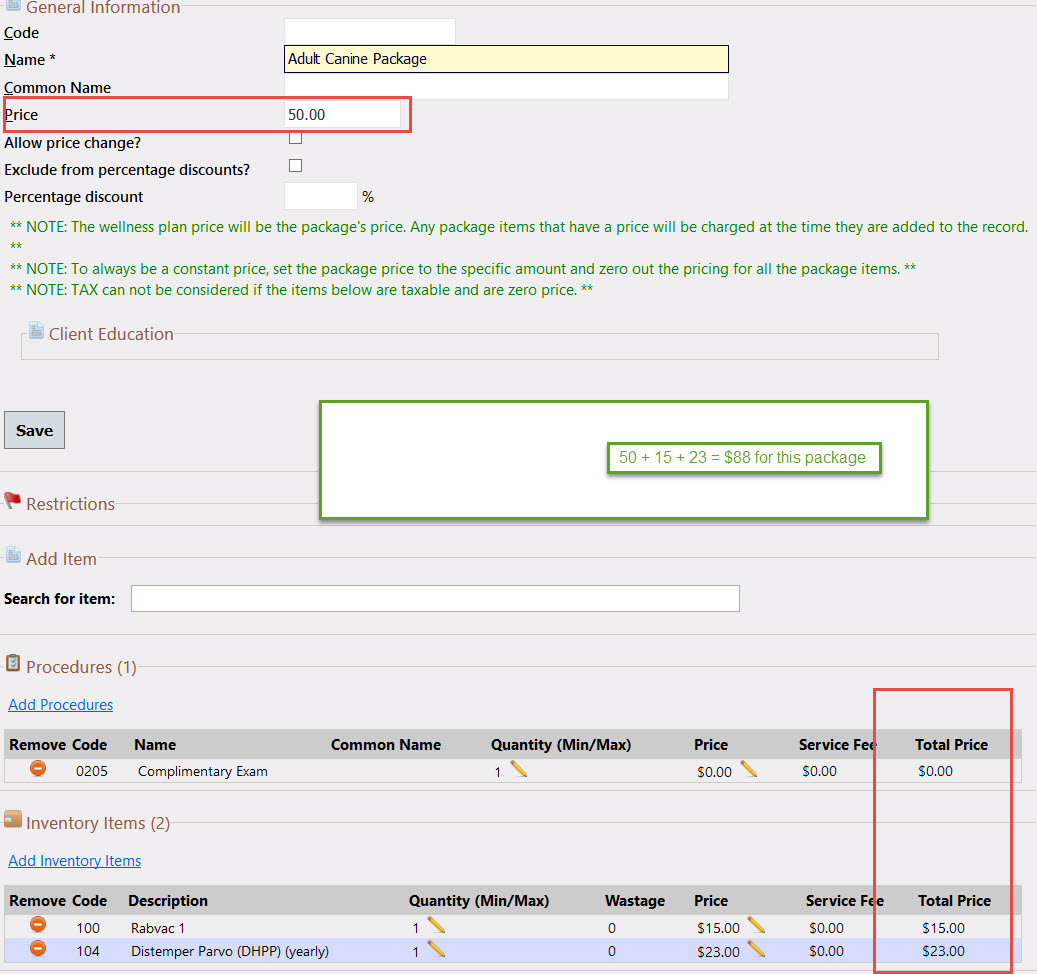 This functionality can be used in a number of ways. Common uses include:
Creating a base package (perhaps this would include an exam, rabies, and DHPP) and setting that price in the Price field in the General Information section. Then adding "add-ons" to the package at reduced rates. For example, perhaps if you buy the base wellness package, you can add a heartworm test for only $20 instead of $25. All you would do is click on the edit pencil next to the heart worm test and change it from 25 to 20.

Please Note: When adding a package to a patient's medical record you can remove the individual add-ons if they are not purchased by your client.

In surgical procedures you may have a set cost for sedation despite what medications are actually used. You could add the sedation procedure for the set price and then add all possible drugs that could be used and override their prices to zero. That way on each individual record you can remove the drugs you didn't use and update the quantities of the drugs you did use so that your inventory and controlled drug logs are always up to date.
The last common use of packages is to create canned estimates. You will add your items and update their prices as shown above, but you will also have the opportunity to specify high/low ranges for Quantity, Service Fee, and/or Total Price of an item. The ranges will translate over if you add this package to an estimate.
For Quantity, click on the edit pencil and enter a default quantity, a minimum quantity, a maximum quantity for that item and then click Save:
For Service Fee, click on the edit pencil and enter the default quantity, a minimum quantity, a maximum quantity for that item and then click Save. Generally speaking, the Service Fee quantity min and max values are the same as those you entered for the Quantity min/max unless the Service Fee is flat, regardless of the quantity administered.
For the item Total Price, click on the edit pencil and enter the minimum price and the maximum price, then click save. For estimate purposes, you will need to manually calculate the minimum and maximum prices Example: If you specified a min/max for Quantity and a min/max for Service Fee, you need to calculate the Minimum Price as: (Quantity Minimum * Price) + (Service Fee * Service Fee Quantity Minimum) = Total Price Minimum

Additionally, you can also adjust the Total Price Override for the Package along with specifying a Minimum and Maximum price for an Estimate at the same time. When you do this, the Price Override value is what will display if you add the package directly to the Medical Record as a Treatment. The Minimum and Maximum Total Prices will display when you generate an estimate. When done, click Save.

NOTE

: If you do enter a Price Override for the Total Price, Service Fee min/max is no longer applicable and you will no longer see an edit pencil for the Service Fee after saving.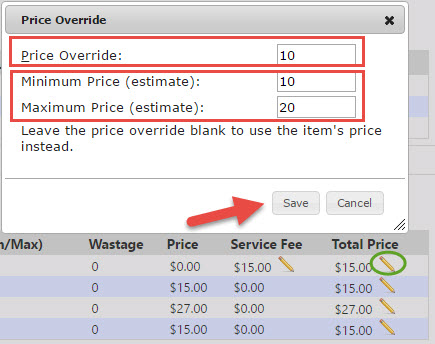 Once you have added all your items and updated their prices and quantities your package is complete. Your package may look like this: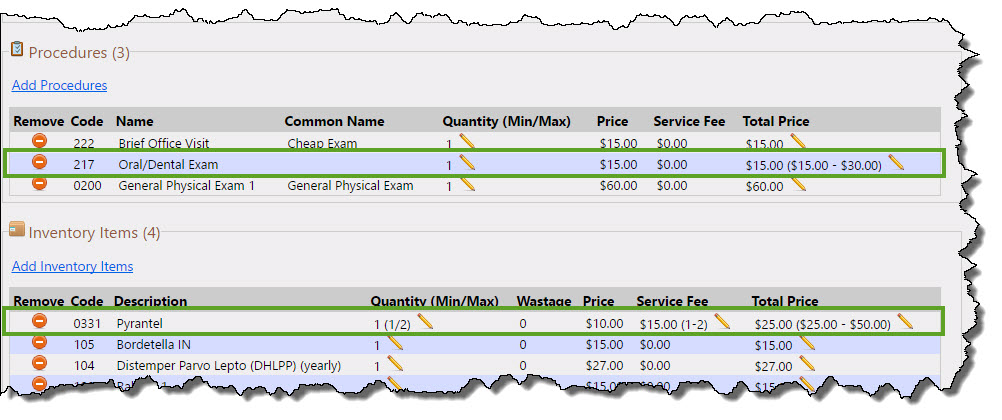 If you have updated the Restrictions or General Information, make sure to click Save once completed.