eVetPractice allows you to keep track of all your controlled substances for mandated reporting purposes. In the system you can set the schedule of the controlled substance and then run reports on usage of the substance over a set period of time.
ENTERING THE CONTROLLED SUBSTANCE IN INVENTORY
In order to do any reporting on the controlled substance, you must first enter it into the inventory. You will enter the item just as you would any other, but at the bottom of the screen you will check off the box next to "Controlled Substance" at the bottom of the screen. When you do so the menu below will appear and you will select the schedule of the controlled substance.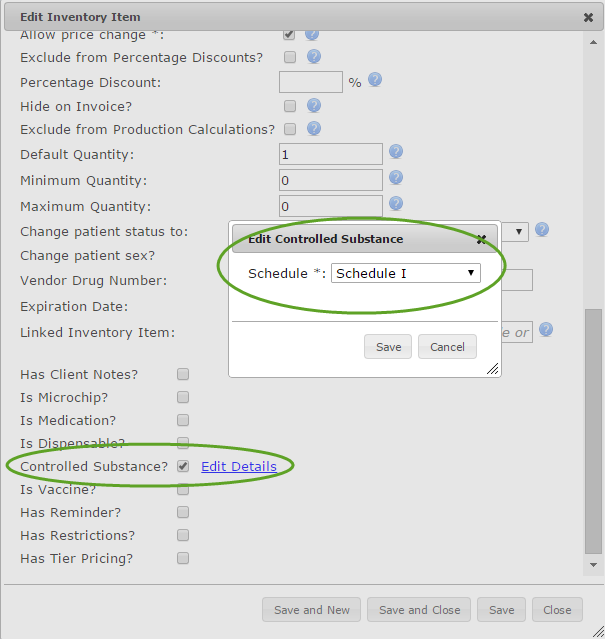 By checking this box this inventory item will now show up on your controlled substance reports. For more information on adding an inventory item see this article - Adding an Inventory Item.
CONTROLLED SUBSTANCE REPORTING
Once you have your controlled substances entered into inventory you can begin reporting on these drugs. 
Navigate to Inventory in the blue menu. It can be seen from the Home Menu or Settings Menu (Gear Icon).

Click on Controlled Substances
This will bring you to the Controlled Substances landing page where you can enter your report parameters
First you can choose the type of report you want - a Disposition report that shows you client transactions, an Inventory report that shows you changes in inventory, or a Combination report that shows you both.
Next you need to choose the start and end dates that you'd like to pull the reports for.
Finally you can choose to report based off a particular substance, employee, or patient.
Once you choose your parameters click generate.
The report will show up in real time on the Controlled Substances landing page. From here you can choose to export the report into Excel or PDF or go ahead and print the report: