Your eVetPractice system will come pre-loaded with many different Lab Forms that you can use and customize to your specific needs for your in house labs. You can also create new ones specifically tailored to your practice.
CREATING NEW LAB FORMS
Navigate to the Settings Menu by clicking on the Gear Icon
Click on Lab Forms
Choose which Category the form should appear under.
Click "Add Lab Form"

The "Add Lab Form" screen below will appear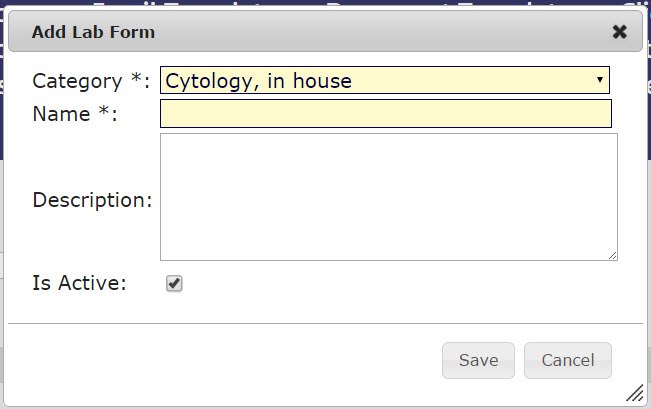 Category: This is the category where the form will appear
Name: This is the name of the form you will see in the medical record.
Description: This is an option description for the lab
Is Active: If you do not currently need the form, but think you may need it in the future you can simply inactivate it. This will make the form unavailable to add to a medical record by the provider. The form will only be able to be added once it is checked off as active.
Once all the information is loaded click Save.
Now your form will appear on the Lab Forms screen. Next you will need to add Elements to your form. To do so click on the magnifying glass to expand your newly created lab form and then click "Add Element."

Next you will need to fill out the following information regarding that element:
Name: This is the name of the element. Many times it may be the same as the name of the form if the form only has one element. This would be true in the case of a FeLV snap test where all you are testing is whether or not they are positive for FeLV.
Minimum: You can enter a numerical value for a minimum amount for this element. This is not required.
Maximum: You can enter a numerical value for a maximum amount for this element. This is not required.
Units: You can enter any sort of Units in this field including "Positive/Negative." This not required.
Is Active: This will allow you to keep an element on the form, but not use it for the time being without having to delete the entire section.
Click Save
Elements can be used in many different ways. Below is an example of how they will appear on an actual lab form on the medical record:
You can add as many lab forms and elements as you need for your labs. Each existing form can be edited by clicking the edit pencils and updating the information described above.
Our system is integrated with in house labs and ANTECH, Abaxis, IDEXX, SKIL, DiaSys and HESKA reference so often times you will be using their systems to retrieve the lab results and they will be sent directly to your eVetPractice system. The lab forms above are for labs that are not integrated.