Adding a new vaccine is very similar to adding a regular inventory item. The only difference is that you must mark the "Is Vaccine" box and the bottom and you will likely want to add a reminder to the item as well. For more information on how to create an inventory item please refer to this article - Adding an Inventory Item.
The "Is Vaccine" and "Has Reminder" boxes are on procedures and inventory items and the information is the same whether you have your vaccines in inventory or procedures.
Once you have added all the relevant information for the vaccine, you will need to check the "Is Vaccine" box. When you do, the screen below will appear:
Name - this is the name as it will appear on the Vaccination Log. It does not necessarily have to match the name of the inventory item / procedure.
Manufacturer - This is not required, but you can add it if you wish.
Vaccine Type - Choose from the appropriate type drop down box.
Dosage Type - This is whether or not it is a Booster or Initial vaccine. Please note it is highly recommended to have separate vaccines for your booster and initial vaccines so you can have separate reminders and dosage types.

Create Rabies Certificate - This should only be checked if the vaccine is a Rabies vaccine and you wish for a certificate to be printed.

Create an entry in Vaccination Log - Most often this should be checked unless you do not want it in the Log

USDA/Animal Control Licensing - You can choose from One Year, Three Year, Four Year (USDA only), or Other. Other allows you to enter a number of months.

Serial Number - Enter the appropriate serial number if you need to.

Click Save
Next you may wish to set a reminder. For more information on reminders see this article - Creating & Distributing Your Reminders. In this article they mention Reminder Associations. It is important that you set these up for your booster and initial vaccines so that one cancels out the other.
LINKING YOUR VACCINES TO ONE INVENTORY ITEM
Once you have set up your initial and booster vaccinations, we recommend that if you wish to track your inventory closely that you link the 2 vaccines to one inventory item. In the example below you can see that there are initial and booster vaccines as well as an inventory item for each vaccine.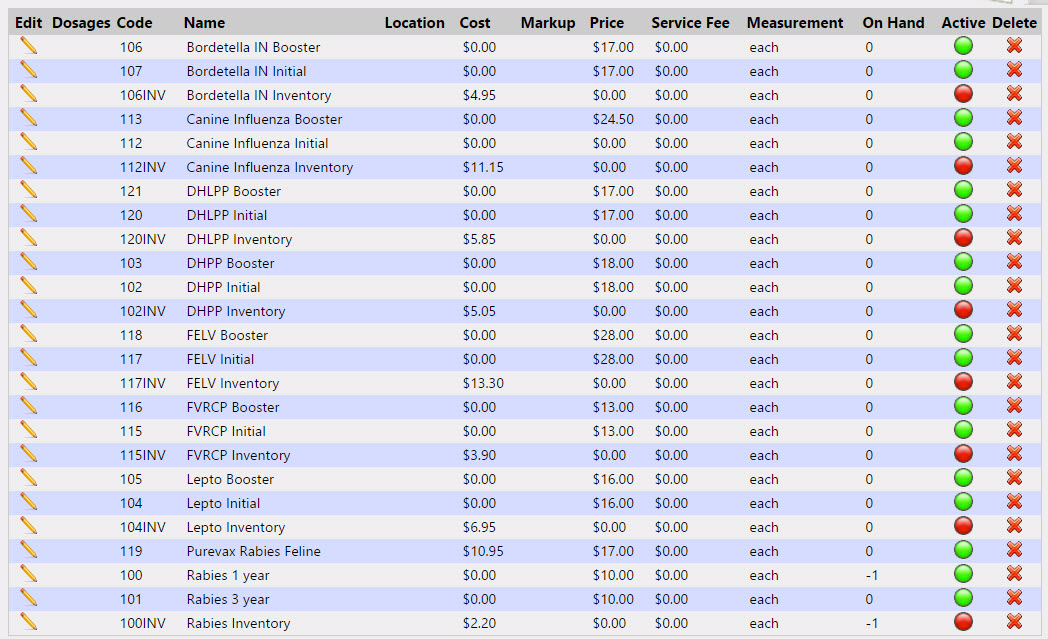 Important things to note are:
Cost = $0.00 for the billable items and instead is reflected on the inventory items. This is because cost should be reflected in the inventory.
Price = $0.00 on the inventory items and instead is reflected on the billable items. This is because you are charging for the billable item.
Only the billable items are considered active. The inventory items have a red circle under the Active column. This is due to the system only allowing you to add active Treatments. This way you could never accidentally add only the inventory item which would result in you not charging your client correctly, as the price for these items are always $0.00.
In order to link the billable items to the inventory items, click their edit pencil and scroll down to the "Linked Inventory Item" section. Start typing in the name of the inventory item and select it when it pops up. Linked Inventory Item Default Quantity should only be updated if the quantity is more than 1.
Click Save and Close. You will want to make sure you do this for all your billable items (the booster and initial vaccines).
What this accomplishes is that most of the time your vaccines, whether they are a booster or initial, come out of the same inventory item. Instead of having to track both items and compare them to your actual inventory, you will have one inventory item that is always correct no matter how many initial vs. booster vaccines were given.
ORDERING A LINKED VACCINE AS A TREATMENT
When you go to order the vaccination as a treatment and start typing in the name of the vaccination in the "Add Item" section, you will notice that only the billable items show up. This is because the inventory item is set to inactive:
However when you add one of the billable items as a treatment, the inventory item is automatically pulled as well. This is due to the link we created above.

In order to not confuse your clients and make them think they were charged twice for only one vaccination, we hide the inventory item on the invoice by clicking hide on invoice on the inventory item's properties. You will also note that you do not have to mark the invoice as "Is Vaccine" or "Has Reminder" because this is all taken care of on the billable item: