Question: How can I create the check in sheet?
Answer:
eVetPractice allows you to print a Check In Sheet once the patient is checked in at the practice. This sheet is very useful as it shows you valuable patient information at a quick glance: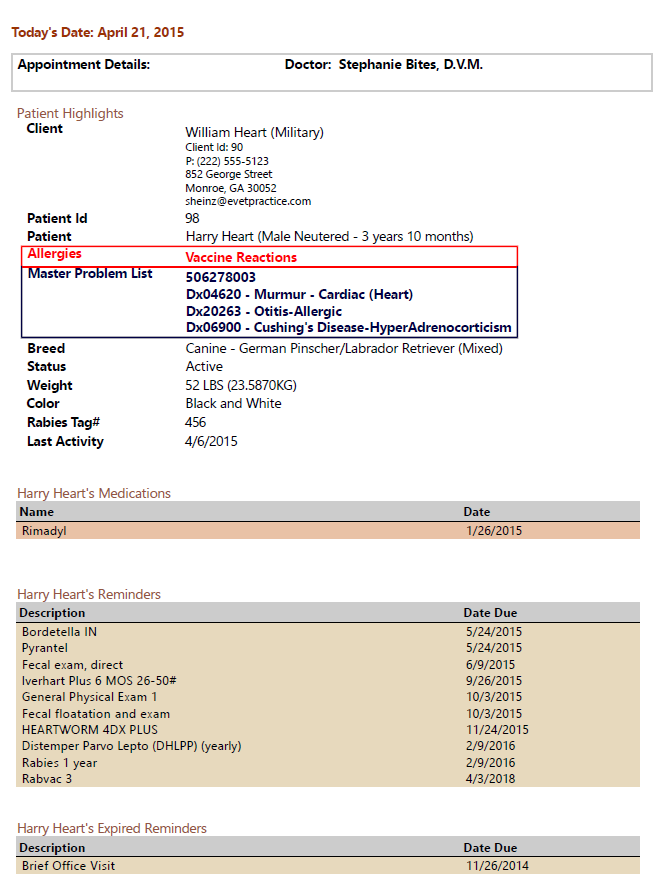 This sheet can be generated in one of two ways:
VISIT STATUS ON THE CALENDAR OR EMR
If you have a visit status with the "Print check-in report" box selected as discussed in the Visit Status Article moving a patient to this status will automatically prompt you to print this report. Typically this status will be called "Checked In." To move someone to this status you would right click over their appointment in the calendar and click Edit. Once in the appointment scheduling screen you would change the Visit Status to Checked In. You could also do this directly in the EMR by changing their Visit Status under the General Information section.
DIRECTLY IN THE EMR (NO VISIT STATUS CONFIGURATION)
If none of your visit statuses are configured to print the check-in report, then you can still print the Check In Sheet directly from the EMR. The easiest way to do this is the double click on the appointment in the calendar. This will take you to the EMR. From here you will see the option to print the check-in sheet under the General Information section.