** Please make sure you do NOT have IDEXX's Interlink software setup to pull VetConnect Plus results. If you are unsure what Interlink is, please contact our support to ask. **
IDEXX Vetconnect Setup
To set up your IDEXX VetConnect Plus integration, you will first need to contact IDEXX for the following account information:
LIMS ID
Ordering User name
Ordering User's Password
Results User name (this is the same as LIMS ID. Canadian practices see note below).
Results User's Password (this is the SAP#)
NOTE: Starting in early 2019 IDEXX stopped setting up new accounts with the LIMS ID and SAP# as the Results Username and Password. There isn't a pattern to how they assign these so if those do not work for your setup you will need to contact IDEXX's support team to acquire the correct credentials.
Once you have collected this account information, please click on the Gear Icon at the top right of your eVetPractice screen.
Next, scroll down to Integration Settings and click the box to enable IDEXX VetConnect Plus. Make sure to click the Save button before continuing.
Next, click on the IDEXX Setup Tab at the top.
Fill in your IDEXX account information and click Save. When you click Save, the system will validate the account information. If an error occurs, you will be asked to correct the information before continuing.
-NOTE: (CANADIAN PRACTICES ONLY): For the "Results User" field only, prefix "CA_" in front of your account's normal LIMS ID. So if your LIMS ID is 12345, your Results User should be CA_12345. The LIMS ID at the top will still be your normal LIMS ID without the "CA_" in front, such as 12345.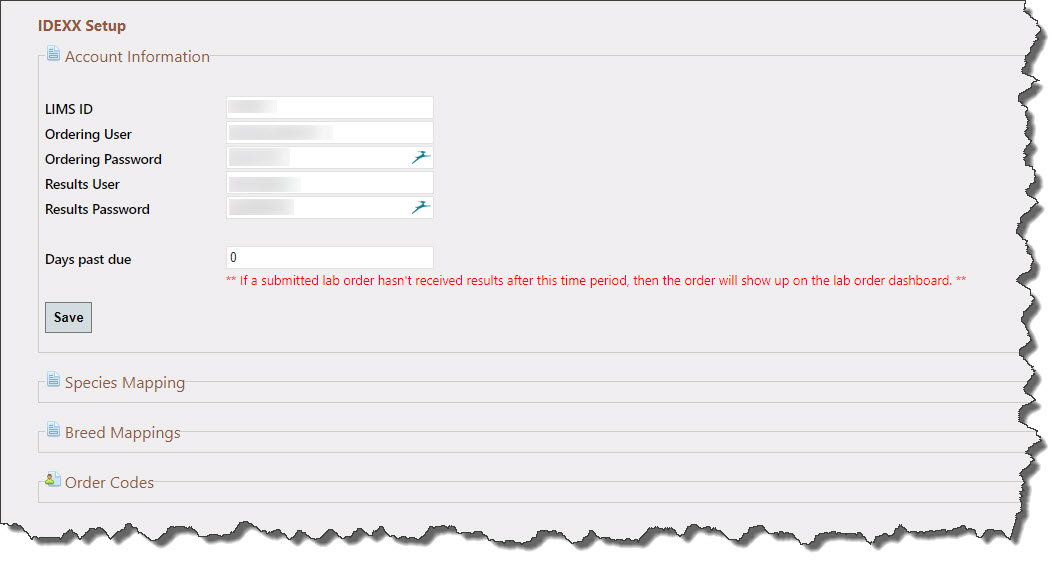 Setup Billable Lab Items

eVet recommends practices create the relevant handful of Lab items they will be requesting from IDEXX and configuring them appropriately. However, eVet does have the capability to import all current IDEXX codes into an empty lab category, and steps on how to do so are detailed below. If your practice decides to import lab codes from IDEXX, eVetPractice will import the following:

All current 7000+ IDEXX codes. This will include all small and large animal codes across the US and Canada. Many clinics find it is easier to add the few IDEXX labs that they use instead of filtering through the entire catalog.
Currently published cost (does not update automatically, only downloads current snapshot). Please note that no special pricing to your clinic can be imported. If your clinic receives special pricing then you will need to manually change the cost of the imported lab item. By default, eVet marks up the cost 200% to drive price, but you can globally change this.
Manually Configuring Lab items
After the integration is configured, at a minimum, you'll need to complete the following items:

Lab Items- Your site may have been pre-populated with a subset of sample IDEXX Lab items that you can use or we will have brought these over from your old system if any data was migrated. Add new IDEXX Labs you need, delete the ones you do not need, and inactivate (turn red) those you do not currently need, but may have a need for in the future.
Pricing- Verify markup percentage to all items and/or define Price
Cost- Verify/change Cost (to you)
Is IDEXX Reference Lab Item / IDEXX Reference Order Code- Enter the related IDEXX Lab Order Codes in the Order Code field that will appear under "Is IDEXX Reference Lab Item.



Linked Inventory Item / Linked Procedure - Link Labs to inventory items and procedures that should be linked together. If you need to a link a lab to more than (1) inventory item or more than (1) Procedure, use Packages instead. Linking Billable Items
Reminder Setup and Reminder Associations- Add reminder associations to any old lab codes from your old system's lab billable items, if being replaced. Attaching a Reminder to a Billable Item
Import Current IDEXX Vetconnect Listing
To import lab codes, you first must create a new lab category and have no codes in it. You can do that by going to Labs, then clicking the Lab link next to the lab category drop down. We recommend you name the category something like IDEXX Reference Codes.
After the empty category is created, go back to IDEXX Setup, scroll down to Order Codes and expand that section. Then select the lab category. You will be given an option to import codes. Once you click the button to import, please wait until it completes. This process could take several minutes as it is importing over 7000 items.
If you decide to import all codes
After the integration is configured, at a minimum, you'll need to complete the following items
Lab Items-Delete the ones you do not need and inactivate (turn red) those you do not currently need, but may have a need for in the future.
Pricing- Verify markup percentage to all items and/or define Price
Cost- Verify/change Cost (to you), if necessary, especially if you have any cost related contractual pricing that is different.
Linked Inventory Item / Linked Procedure - Link Labs to inventory items and procedures that should be linked together. If you need to a link a lab to more than (1) inventory item or more than (1) Procedure, use Packages instead. Linking Billable Items
Reminder Setup and Reminder Associations- Add reminder associations to any old lab codes from your old system's lab billable items, if being replaced. Attaching a Reminder to a Billable Item
Inactivate Old IDEXX Lab Billable Items- Inactive (turn Red) old IDEXX Lab Billable Items that are replaced with the newly downloaded ones, as applicable.
Packages- If Packages were migrated, update Packages that used your old codes to the newly imported IDEXX codes. Creating Packages